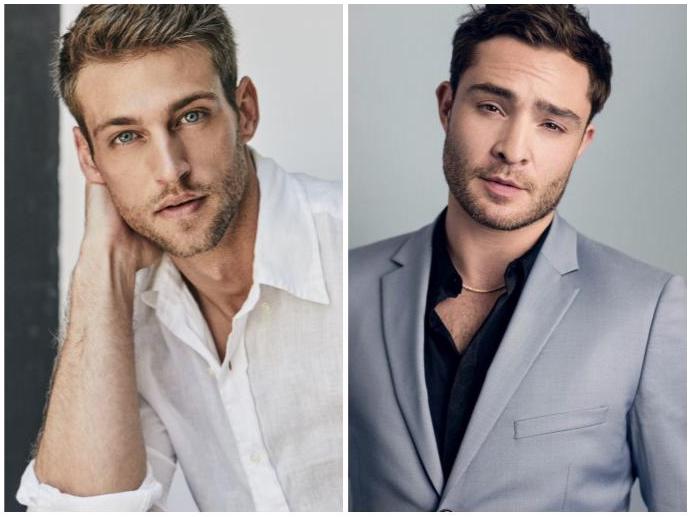 Carter & Guillaume
Carter emerged from the bedroom, adjusting the knot of his robe's tie as he moved. A spread of breakfast delicacies had been meticulously laid out by room service, yet he had eyes only for the espresso.
Seated comfortably on the sofa, a saucer elegantly perched on his knee, Carter indulged in a moment of relaxation while absorbed in his Wallet's news reels when the door slid open behind him. Guillaume, his cousin, appeared, swathed in a bathrobe befitting a gentleman three times his age. His hair was charmingly disheveled as though a few espressos might offer redemption to an appearance that only Carter might recognize for a hangover. Accompanying him was a blonde beauty adorned in opulent lingerie, her dress from the prior evening draped over her arm, and her heels held delicately in her hand. With a tender gesture, she bestowed a fleeting kiss upon Guillaume's lips before bidding Carter farewell with a graceful flutter of her fingers. Adjusting her dress as she departed, she left the suite.
Carter raised an espresso cup in a mock toast, his gaze lingering on the closing door, as he quipped,
"Gui, when I suggested we share a suite, it wasn't for the views in the morning."
Guillaume offered a wry nod as he selected an espresso and the cousins found themselves side by side on the couch. Despite wearing only pajamas and a robe, Guillaume exuded an air of self-assured elegance.
"Someone needs to show you the absolute treasures you are forfeiting in the name of stalking Colette Moreau,"
Guillaume remarked, a tantalizing glint in his eye hinting at his ability to decipher Carter's thoughts in an instant.
Carter just ignored the taunt. Gui been parading endless women in front of him since they arrived in Moscow. Forget Guillaume's devilish good looks, debonaire style, and billion dollar bank account. All he had to do was open his mouth and pour out that sinful french accent and they practically fell at his feet.
He pressed on.
"As I reiterated last night, the preceding night, and the one before that, I am only interested in one woman, and I am here to prove that to her, and I am not a stalker,"
but Carter was met with Guillaume's audible sigh of contempt.
"While you may be in love, the two of you remain unattached. This self-imposed vow of celibacy until you attain her is perhaps the most misguided of your endeavors. Luckily, I've undertaken the task of rendering it unnecessary,"
Gui smirked, his smile suggesting a hoard of secrets that he would reveal only when it suited him most.
"Gui, you can stop right there—"
Carter interjected.
"No, Carter.

You

can finally stop because 

I've

found your girl." 
Guillaume produced a wallet from his robe's deep pocket, unveiling a social media feed. Prominently featured was the very
hotel bar
they had graced with their presence on the rooftop the prior night. The photograph portrayed a pair of women posing for the lens, one of whom just departed the suite, while in the background sat Colette, radiant in a prime seat, sharing drinks and focus with a man.
Guillaume sighed sadly for the hurt puppy dog look that crossed Carter's face.
"I told you this was the right hotel. For a stalker, you're not a very good one."
His heart fluttered.
"You knew she was staying in our hotel this whole time and didn't tell me?"
"I sought to ensure your commitment. And now that it's confirmed, finish your espresso and get dressed."
"Why is that?"
"Because, cousin, a transformation is in order. Your current wardrobe, replete with its London sensibilities, won't make the grade here. These Moscow women are not impressed with ascots and cufflinks."
Carter's gaze shifted toward the screen. Colette had always exuded effortless style, but what made him frown was how her companion stood out in comparison.
"Who is the man?"
Carter asked as old tension threatened his cool exterior.
With an inscrutable smile that was aware of his cousin's fatal flaw, Guillaume remained quiet, yet he did not pass up a second espresso as he departed to prepare for their departure.